New Mazda MX-5

รูปลักษณ์ภายนอก



One glance and the pulse begins to race. And from behind the wheel, the whole world just looks better. Take the top down. Go for a drive. Feel the smile spread across your face. And you won't be alone – everyone who sees MX-5's athletic styling with its beautiful, sensuous lines and well-planted stance immediately feels the attraction, falling in love at first sight. The more time you spend with MX-5, the more it becomes a cherished part of your life.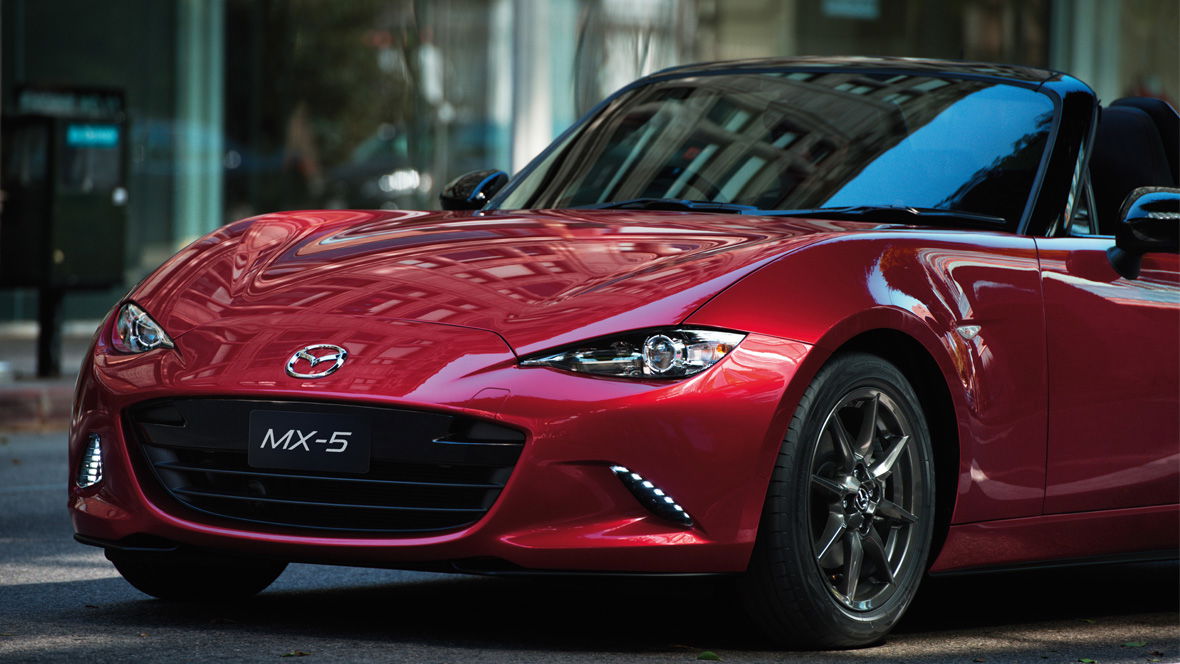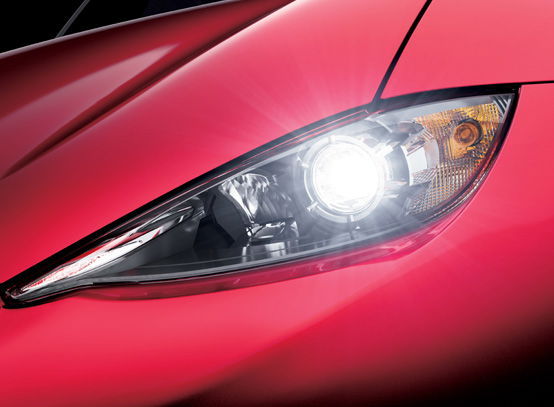 Four-lamp LED headlights, standard on all grades, highlight the Mazda brand presence on the road, day or night. Their eye-like design gives the MX-5 a look of vitality and power waiting to be unleashed.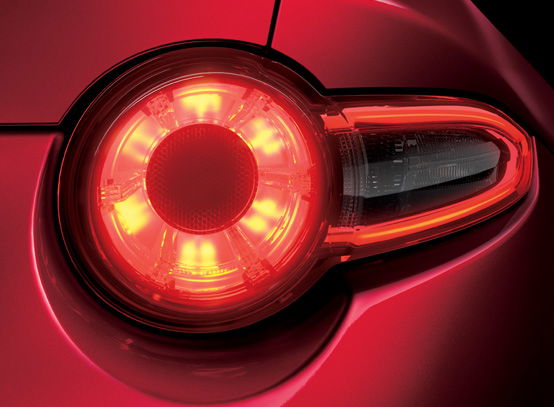 The iconic design of the U-shaped rear combination lamps and round tail lights is a tribute to the rear view of previous generations of the MX-5.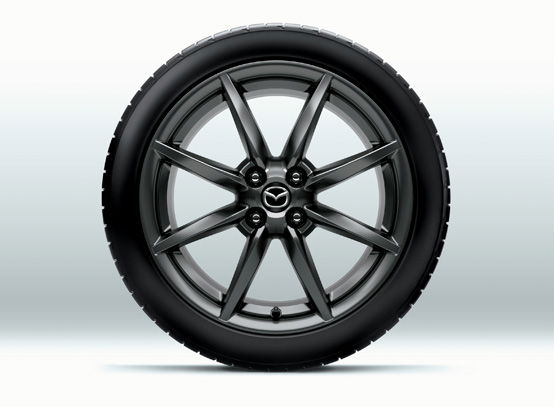 17" aluminium wheels are manufactured with a cold casting technique to strengthen the material and achieve both weight reduction and functional beauty.
New Mazda MX-5

รูปลักษณ์ภายใน
Keeping You Focused and in the Picture
The cockpit immediately tells you all you need to know: this is the essence of pure fun-to-drive. Body panels wrap over into the door trim, dissolving the interior/exterior boundaries and heightening the pleasure of open-top driving. And all interior details are tailored to appeal to sports-car enthusiasts in look and function, and also in operating feel. Grip the steering wheel, let your hand fall naturally to the gear shift lever, reach for the engine start button – it's a ritual that always sets the heart racing.
All driving demands concentration. Sports driving even more so. And it's hard to maintain concentration in modern cars because they constantly supply you with information: route guidance from the navigation system, hazard warnings, audio entertainment from a wide range of sources… the list just goes on. The key is how information is presented. That's why Mazda developed its unique Human-Machine interface (HMI) design, and engineered MX-5's cockpit from the ground up to give you information in a way that lets you stay focused on the road and on safe driving.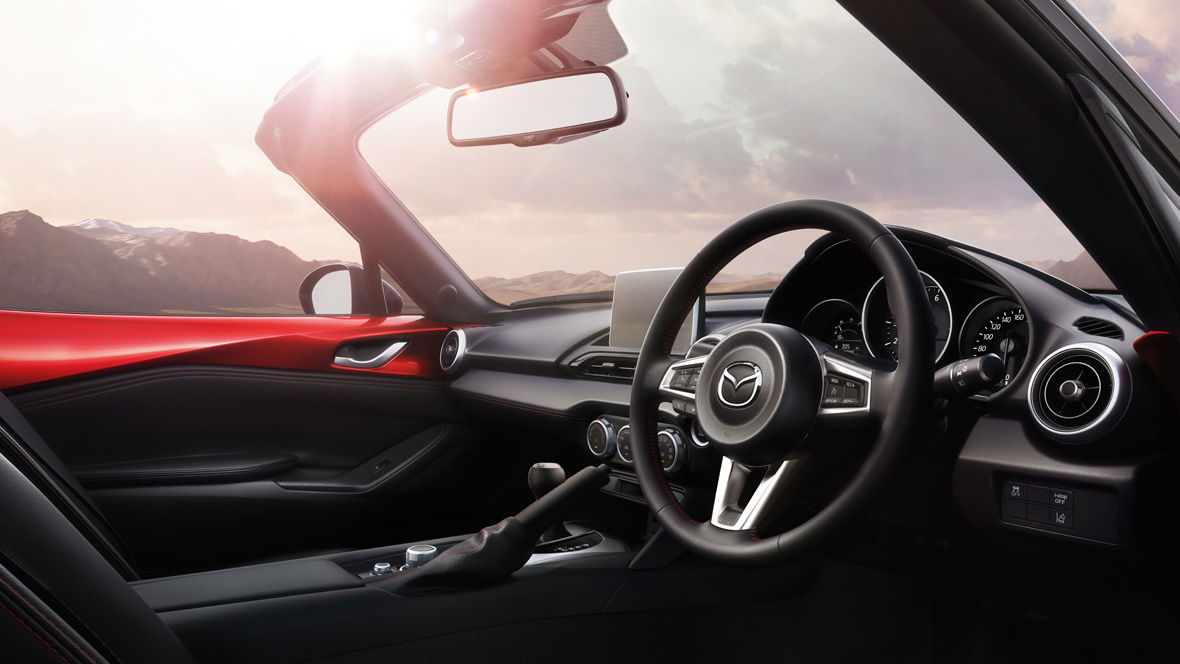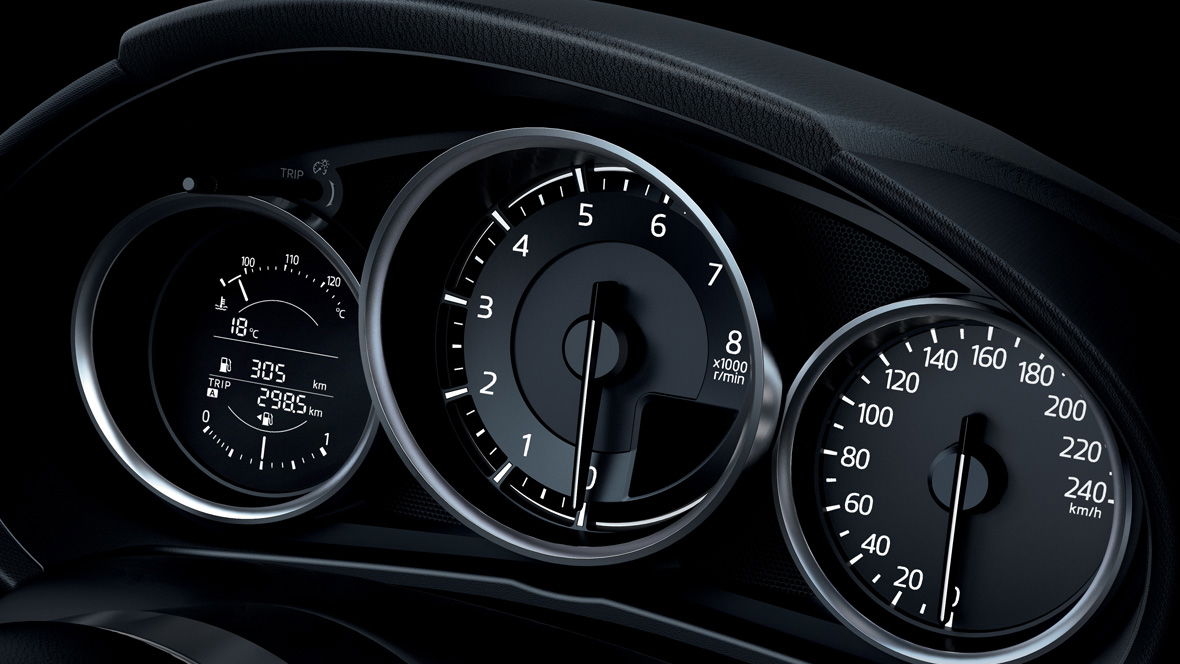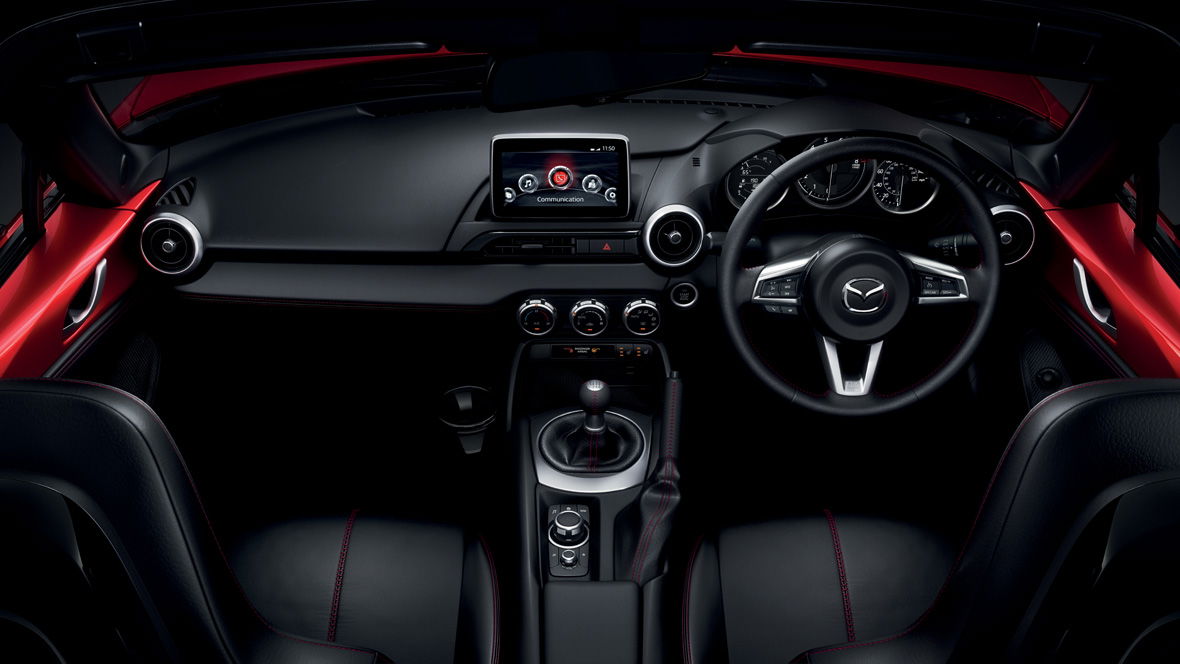 The Leading Edge of HMI Design
The amount of information presented to you when driving continues its increase. For example, i-ACTIVSENSE defects traffic conditions around the vehicle and provides warning, while MZD CONNECT, the new in-vehicle connectivity system, offers the latest Internet-connected services via your smartphone. So to present this rising tide of information without compromising safety, Mazda engineered the cockpit with a new HMI design to prevent confusion in decision-making, minimize driver eye movements, and reduce physical stress.
The cockpit itself is divided into two zones, one focused on driving and the other focused on infotainment, and each zone has information displays and controls according to its purpose. Physically separating these interfaces promotes easier recognition and smoother operation. Frepquently used operations are controlled by steering-wheel mounted switches without taking the hands off the steering wheel.
Information for MZD CONNECT's audio, communication and navigation functions is displayed on a seven-inch centre display featuring graphics designed for instant legibility. Multi-stage operations of MZD CONNECT are quickly and accurately controlled by a commander control located on the floor console where the driver's hand naturally falls.
MZD CONNECT, the Benchmark in-vehicle Connectivity System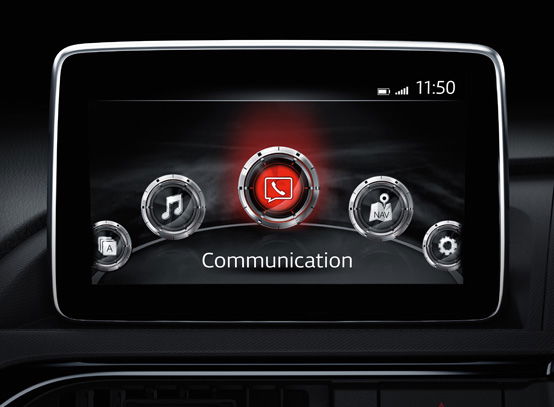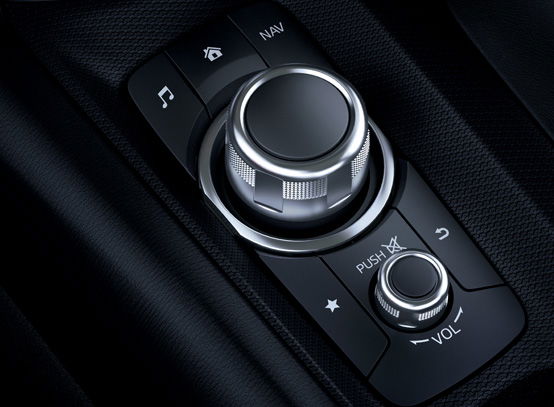 Internet connectivity has become an essential part of daily life, even while travelling in a car. So Mazda developed MZD CONNECT to provide versatile connectivity while further enhancing safety. MZD CONNECT offers a huge range of infotainment options from the Internet through AhaTM by HARMAN when connected to a smartphone via Bluetooth®.
The system's Audio feature allows selection of various music sources including AM/FM radio, CDs and mobile audio players, and Aha Internet Radio. The communication feature reads SMS messages aloud, as well as other Internet social networking services (Twitter and Facebook for example) available via Aha. And the Navigation* feature shows your current position on a map along with a route to the specified destination. System software is easily updated, providing ongoing access to the latest services without swapping out any hardware.
Redefining the Classic Lightweight Sports Car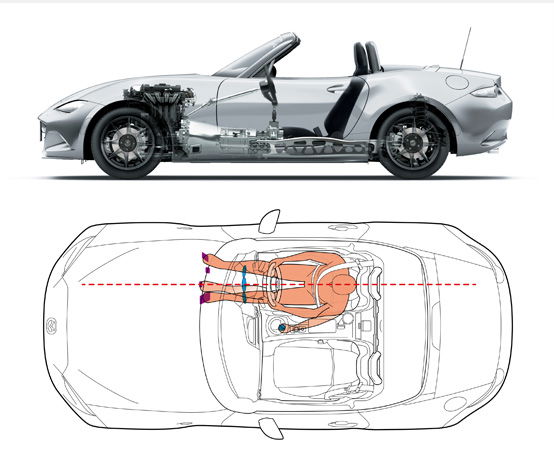 First and foremost, development focused on creating a driving experience only the all-new MX-5 could offer, through response and handling that precisely match the driver's intentions. The aim was simple: to make MX-5 feel like a natural extension of your body. Enhancing Mazda's trademark Jinba-ittai – the characteristics were the watchwords, even as MX-5 met the challenge of satisfying ever-higher demands for comfort, safety and environmental friendliness. Of course, weight was kept as low as possible, while the latest advances in SKYACTIV TECHNOLOGY keep the suspension, body and powertrain acting in perfect harmony. Taken together, it all adds up to a total redefinition of sports car driving pleasure.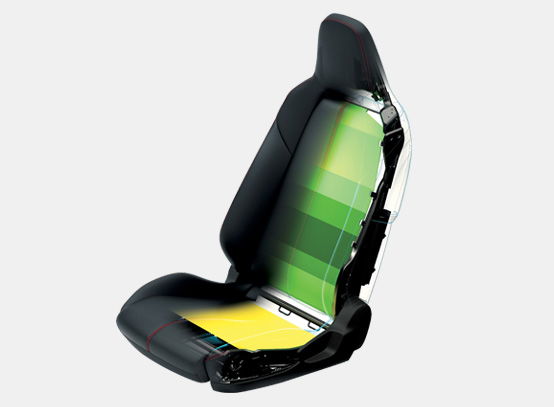 From the very first generation, Mazda MX-5 has always featured a compact, open-top two-seater body, a Front-midship engine/Rear-wheel drive (FR) configuration, and 50:50 front/rear weight distribution – the classic layout of lightweight sports car. The all-new fourth generation carries on the tradition, but with the engine moved rearward and an aluminum bonnet and boot lid to achieve a lowered yaw inertia moment. Combined with a lower centre of gravity realized by lowering the engine's mounting position and the seats, this results in the kind of response and handling drivers dream about.
Another key element adding to MX-5's commanding feeling of control is the driving position: the driver is places closer to the car's centre line, while the pedals, controls, meters and displays are optimally located to allow the driver to maintain good posture and drive comfortably. Additionally, the low nose, rearward position of the A-pillars and thinner front header afford a panoramic view for easier confirmation of the surroundings and the car's behaviour. The seats themselves feature Mazda's innovative and ergonomic S-fit Structure, employing a newly developed net material and urethane pads in place of the conventional metal springs/urethane pad structure. This reduces both the weight and thickness of the seats at the same time as providing superior support and holding capability when driving hard through the curves.
All New Mazda MX-5 RF

ความปลอดภัย
Mazda's safety philosophy, which guides the research and development of all our safety technologies, is based on understanding, respecting and trusting the driver. To drive safely it's essential to recognize potential hazards, exercise good judgement and operate the car in an appropriate fashion. Mazda aims to support these essential functions so that drivers can drive safely and with peace of mind, despite charging driving conditions. Actively safety measures include Mazda's i-ACTIVSENSE suite of advanced safety technologies to help identify and assess potential hazards early on and reduce the risk of damage or injury. Passive safety features include a version of Mazda's high-strength SKYACTIV-BODY newly developed for an FR open-top car.
Adaptive Front Lighting System (AFS)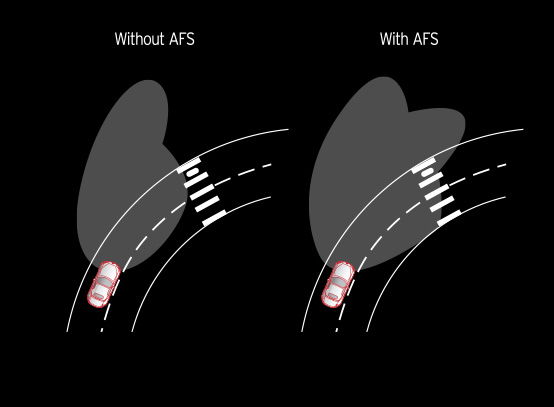 As your turn into a corner, the headlights move up to 15 in the direction of your turn, improving visibility and allowing you to spot potential hazards and dangers ahead.
SRS Airbags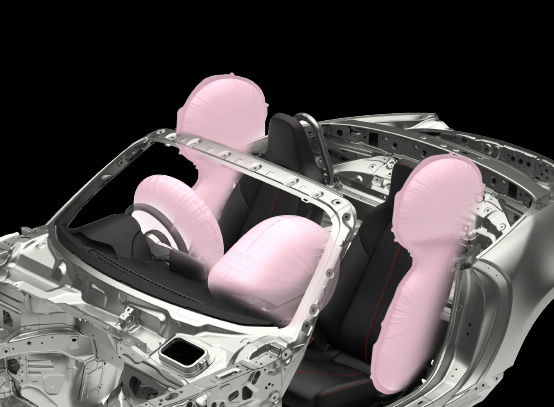 All grades feature front airbags as standard equipment for both seats, Side airbags with a head-protecting cell help safeguard occupants' heads from injury inflicted by walls or poles in a collision, even when the top is down.
All New Mazda MX-5 RF

สิ่งแวดล้อม

ระบบประหยัดพลังงานอัจฉริยะ
i-Stop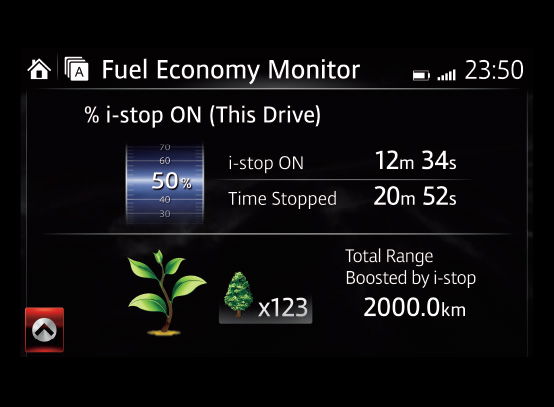 Mazda's i-stop idling stop system automatically shuts the engine down when you come to a complete halt after braking, saving the fuel wasted when stopped in traffic or at a signal to improve fuel economy by as much as 5%. Release the brake pedal and fuel is injected directly into the cylinder ready for an almost instantaneous restart: just 0.35 seconds with the automatic transmission. What's more, because i-stop uses combustion energy rather than the starter motor, restarts are both quicker and smoother.
i-ELOOP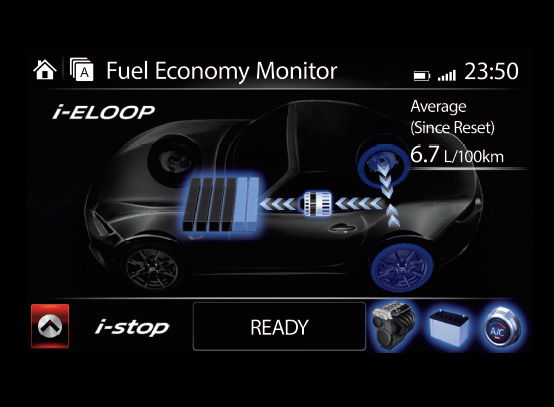 Regenerative braking is a process in which the car's kinetic energy during deceleration is used to generate electricity. To make this process most efficient, Mazda developed the i-ELOOP regenerative braking system that contributes to reducing electricity generation by the alternator, therefore minimizing fuel consumption. i-ELOOP captures the energy lost during deceleration, and saves it as electrical power in a revolutionary high-capacity Electric Double Layer Capacitor (EDLC). The moment you step off the accelerator, Mazda MX-5's forward momentum drives the alternator and starts charging the ELDC which reaches full charge in just 7-10 seconds. Then when you step on the accelerator again, the stored electricity is used to power the car's electrical equipment. It's virtually free energy! The EDLC can stand an almost unlimited number of charged-discharge cycles, and combined with i-stop can improve fuel economy by up to 10% according to Mazda measurements.